What's New at Whitdel Arts

What's going on at Whitdel Arts this month?  Well, check these out and wrap up your summer with us!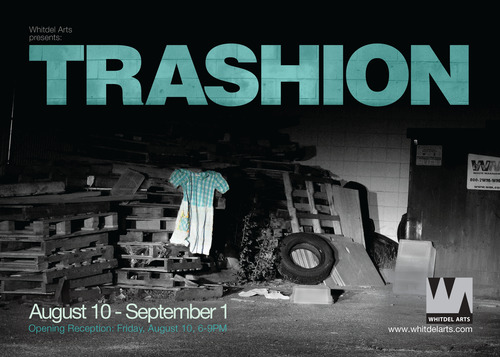 August 10 – September 1
Opening Reception: August 10, 6-9pm
Guest Speaker, Tiffany Best: August 25, 1pm
Family Activity Day: August 25, 10am-noon
Whitdel Arts presents Trashion.  This exhibition features unique garments, showcasing the Detroit designer's ability to create inventive forms of fashion, while being resourceful and environmentally conscious.  Designers have created their pieces from found objects gathered from within the city of Detroit.  Reusing such objects has challenged them to create within the constraints of unconventional materials.  The source of these materials simultaneously challenges the viewer's perception of recycled, unconventional.
Exhibiting Designers:
Cynthia LaMaide
Daniel Neville
Emily Thornhill
Jessica Frilinghuysen
Kelly Sager
Lauren Helbig
Sarah Lapinski
Sheila Palmer
Sydney Conaway
Tiff Massey
Tiffany Best
Please join us for an opening reception welcoming the artists and designers on Friday, August 10th, 6-9pm.  Guest speaker, Tiffany Best, will lecture in the gallery on August 25th at 1pm.
Born from the womb of one crafty mother, Tiffany Best has always found comfort among fabric scraps, paint, paper and thread.  As a child, she avidly cut her school clothes—to her mom's despair—to create ensembles only she found pretty and cool.  When Tiffany is not busy operating the weekend artist & vintage market she founded with her husband, The Rust Belt Market, you can find her elbow deep in paper mache and toiling away on crazy projects from paper walls to a wasp's nest corset.   Her work has been featured in HEARD Magazine, Fall in Love with Fashion, The Woods Gallery, and Little Monster's Toy Boutique.  Look for more of her fashions this September alongside Kelly Lynne's Fall Collection Showcase.  Read about Tiffany's story at www.rustbeltmarket.com.
A family activity workshop will also be held in conjunction with this exhibition on August 25, noon-3pm.  Please RSVP by August 11 to rebecca@whitdelarts.com.
---
[WA] emergence gallery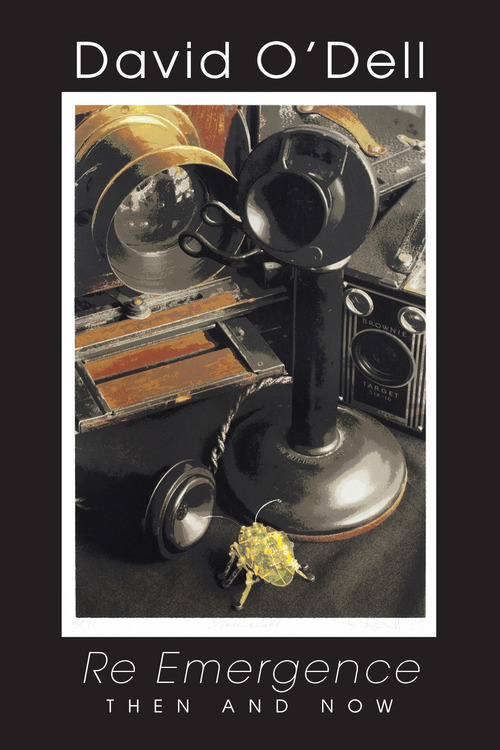 Re Emergence: Then and Now
David O'Dell
August 10 – 21
Opening Reception: August 10, 6-9pm
This August, Whitdel Arts will be presenting Re Emergence: Then and Now, a mixed compilation of fine art from featured artist, David O'Dell, in the [WA] emergence gallery.  The exhibition will kick-off with an artist's reception from 6-9 p.m., Friday, August 10.
Re Emergence: Then and Now will feature past and current pieces by the artist, including silkscreen prints, paintings and intaglio prints. The featured works showcase the artist's influences throughout the decades – incorporating abstract period prints, and more recent works representing the transformation of simpler machines by the digitization of the world and its technological progressions.
"This exhibition is a great opportunity to showcase some of my favorite pieces of fine art that I've created up to this point in time," said O'Dell. "My work has evolved through the years and this show pays homage to those unique, creative periods while demonstrating the evolution of life, people and its objects, presenting them in abstract and various other forms."
O'Dell has been featured in art shows and fairs around Michigan, winning numerous awards and recognition for his work, including first place at Royal Oak's Arts, Beats and Eats in 2009. In addition, he has won numerous regional and national awards for graphic design and photography.
He began his career silkscreening more than 30 years ago, designing posters for national events and entertainers such as Diana Ross, James Taylor, Willie Nelson, John Lennon and various others. Before creating his own limited editions O'Dell screened limited edition prints and fine art posters for various artists.
Currently, O'Dell teaches Adobe Illustrator and Adobe Photoshop programs for fashion design at the International Academy of Design and Technology in Troy, Mich. Previously, O'Dell worked as a graphic designer for graphics firms, printing companies and colleges, and also was a senior graphic designer for Kmart and Sears Brands, LLC.
O'Dell earned a Bachelor of Science in art from Ball State University, and recently completed a Masters in Art with a concentration in printmaking from Wayne State University. He and his wife, Sue, live in Lake Orion, Mich.
For more information, please contact gualberto@whitdelarts.com.
---
Call-For-Entries
Engage: Detroit Interactive Art Exhibition
Submission deadline: August 7, 2012
Exhibition: October 5 – 27, 2012
Juror: Dr. Phillip Olla
Whitdel Arts is seeking artists to participate in its first Detroit Interactive Art Exhibition.  This exhibition will feature a variety of interactive art, allowing the participant to engage with the work to create a unique experience, while allowing the piece to achieve the artist's objective.  We encourage artwork that entices viewers to participate in the piece by providing an input or by becoming the input. This may include the participant to "walk" in, on and around the piece. Other interaction may involve gesture talking, touching, and biometric input to allow the participant to become part of the work.  Submissions of all media is welcome, with interactive aspects that can be digital and/or analog methods.Download or print the full prospectus here.  For questions or more information, please contact jenclare@whitdelarts.com or gualberto@whitdelarts.com.
---
Volunteer Opportunities
Looking to get more involved within the art community in Detroit?  Whitdel Arts is expanding and currently seeking movtivated and ambitious volunteers to help out in these areas:
-Facilities
-Graphic Design
-Educational Programming
-Marketing & PR
Become part of a group of artists, designers, educators and administrators that work behind the scenes and have an impact on the programming at Whitdel Arts!  For more information, contact JenClare Gawaran at jenclare@whitdelarts.com.  For more ways to support Whitdel Arts, check out the different ways you can help!
---
…and a brand, spankin' new website!
New shows!  New artists!  New look!  Whitdel Arts has a new website!  Take a look, browse around, and feel free to send us your feedback!
---
Receptions and events are free and open to the public.  All ages welcome.  Open gallery hours are Saturdays during exhibitions, noon-3pm, and by appointment. 
A division of CAID, Whitdel Arts is an 1800 sq. ft. professional exhibition space that showcases the work of local, international, established and emerging artists.  Whitdel Arts is located at 1250 Hubbard Street, Suite B1, Detroit MI 48209.  Whitdel Arts also is located on the web at www.whitdelarts.com.