Art Detroit Now Newsletter – June 21, 2012

Your online guide to great contemporary art in Detroit.
June 21, 2012 – News, exhibitions, openings and events.
Re:View Contemporary Gallery

Matt Zacharias Artist Talk 

Join Matt Zacharias for an informal gallery talk and exhibit tour as he shares references and insights into his first solo exhibit at Re:View entitled Childhood, Boyhood, Sonic Youth. In this new body or work, Zacharias continues his ongoing preoccupation with the fertile period of coming of age through youth culture and personal narrative. By deconstructing and reconfiguring imagery of rock-stars, actors, and characters of childhood, Zacharias creates a frenetic visual style evoking a sense of 'channel-surfing' in the 2D. This array of fragmented flashes of memory and bittersweet humor provides a guided tour inside the emotional topography of Zacharias' past.

Artist talk and tour Saturday, June 23, 5:30-6:30pm.

Gallery will be open 5-7 allowing time for gallery visitors to also view the exhibit and meet the artist before and after the talk.  

Robert Kidd Gallery

An Afternoon with Robert Schefman      
Partake in a strolling lecture and conversation with the artist in conjunction with his solo show currently on view.

We progress by an accumulation of information. We have the unique capability to implant a thought and to transfer information without experience. However, what are we contributing to posterity if certain thoughts and images are incomplete? How can we discover our past if we cannot access the information?
This is the reference for the exhibition, Collected Knowledge.  

Saturday, June 23, 4pm.

Show closes on June 23.

 

Access Arts Detroit

 

Belle Isle Public Art Exhibit    

Wiith the support of Detroit's Recreation Department, Access Arts Detroit opens its 6th exhibition at Belle Isle Park. This year's exhibitions includes a variety of work that engages Belle Isle's diverse landscapes. From nuanced and subtle interventions to live performances, this year's exhibit provokes and cajoles collaboration with the park's visitors, landmarks, infrastructure, and varied environments. Join us in a celebration of Belle Isle through the creative practices of several local and two out of state artists. The exhibition is a great opportunity to re-engage the park and create a new story to share.

Opening Saturday, June 23, 2-7pm.  Opening reception at the corner of Inselruhe Ave. & Loiter Way,  outside of Anna Scripps Conservatory.

Tours & Performances Saturday, June 23, 3pm, 4pm, 5pm.

Artist Talk #1, Wednesday, June 27, 6pm at Belle Isle White House.

Artist Talk #2, Thursday June 28, 5pm at Belle Isle White House.

Show runs through June 29.

 
Ellen Kayrod Gallery

 

Spatial Visions is a retrospective exhibition offering a selective view of the paintings of Donald and Linda Mendelson over the past forty four years.  Works include colorful abstract and figurative paintings in oil, watercolor and acrylic mixed media.  Linda's oil paintings are imaginary landscapes that create spatial illusions through the manipulation of color, light and expressive line.  Her works on paper explore a tapestry of monumental and organic forms, including microscopic and macro cosmic matter, within a spatial ambiguity of color fields.  Donald's oil paintings include expressionistic figures dealing with anti war themes and space exploration.  His works on paper contrast primitive world images with the computerized space technology of today. Both artists create a new vision while examining a process and continuity of human life.

Opening Friday, June 22, 5-8pm. 

Show runs through August 3.

  

 

 

Rivers Edge Gallery

Detroit Pop:  New Works by Bill Morrison  
The idea for this show came to Morrison about eight years ago while listening to an Alice Cooper song titled "Detroit City" which has references to many of Detroit's more famous rockers; Bob Seger, Ted Nugent, Eminem, Kid Rock, Iggy Pop, etc. Although, being a Detroit area native, he was fully aware of the rock 'n' roll history of the Motor City, this song really drove the point home and gave him a feeling akin to when the Wings win the Stanley Cup, or when you see scenes of Detroit in a movie or TV show and they're NOT  depicting squalor and poverty. That feeling is what's known as good old American hometown pride, and it inspired him to start a series of portraits depicting the rock and pop music royalty of his favorite town.

Somewhere along the way, he got the idea to juxtapose images of the artists with graphics from Detroit-based pop advertising (that's pop as in soda). He ended up with a show featuring pop art depicting pop artists surrounded by pop graphics.
 

Opening Saturday, June 23, 6-10pm.



Show runs through July 16. 

MoCAD

 

Danielle de Picciotto on The Beauty of Transgression

American artist Danielle de Picciotto moved to Berlin in 1987. She was co-founder of the popular electronic dance music festival Love Parade and infamous clubs such as Tresor and EWerk. For decades she witnessed and influenced the creative upheaval in Berlin as its underground developed from post-punk to techno and on to the mixed experimental practices of today. She experienced, firsthand, that culture's influence as it successfully brought a war-ravaged city back to life.  

In this multimedia performance, Danielle de Picciotto will read from her memoir, The Beauty Of Transgression, and will project original Super 8 film clips of Berlin. Alexander Hacke, founding member of Berlin cult band Einstürzende Neubauten, will be composing and performing live electronic soundscapes. This presentation will be followed by a Q&A about Berlin, Einstürzende Neubauten and the Love Parade.  

 

Opening Friday, May 4, 6-9pm.

Show runs through May 26. 
CASS CAFE GALLERY 
X Decimal Negative
New paintings by J Oscar
The Mad and Random Stylings of Marianne Audrey Burrows.  
Shows runs through August 18.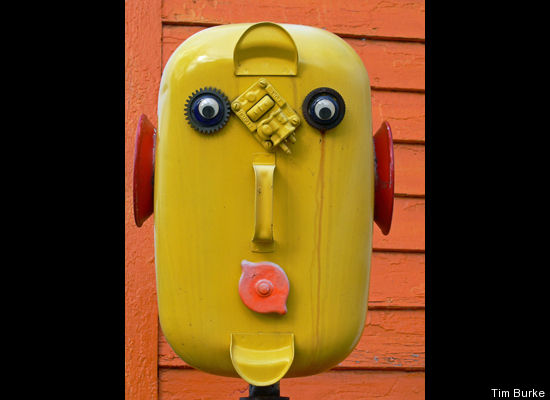 DETROIT INDUSTRIAL GALLERY & LAFAYETTE GREENS 
Tim Burke:  Sculpture at the Lafayette Greens
Artist talk and tour.  Light refreshments will be served.
Please RSVP for artist talk at Megan.heeres@compuware.com.
Artist talk and tour Thursday, June 28, 4:30-5:30pm.
ANTON ART CENTER  
Fiber Hybridity
Fiber Hybridity is an exploration of the timelessness of textile techniques in art, will be on exhibit in the Anton Art Center's Main Galleries.  The participating artists of Fiber Hybridity create contemporary works that invite a new perspective on the traditional qualities of fiber art (i.e. quilting, rug hooking, sewing, felting, embroidery, etc.).
Show runs through July 20 but please note that the Anton Art Center will be closed June 29 through July 9.  
Detroit Artists Market

Celebrating 80 years of promoting contemporary art, the Detroit Artists Market is pleased to announce their 2012 Garden Party and Art Sale, taking place this year at the home of Mr. Michael Hartt in the historic Indian Village neighborhood. Admission to the Garden Party and Art Sale is a DAM membership

Thursday, June 21, 4-8pm.

Every 3rd thursday of the month Detroit Art Monkeys meet at the Historic Scarab Club. doors are at 6pm sketching starts promptly at 6:30 bring your utensils and friends.

Back by popular demand, I present to you Antha Ann, AKA Miss Anna Sassin; and her magnificent hula hoops.
be prepared to draw this hooping vixen in ways that will make your heart dizzy.

 

Thursday, June 21, 6:30pm.  

UMMA

Lunchtime Tour  

Designed specifically for the lunch hour, UMMA students will offer 30 minutes of conversation about art in the UMMA galleries around fresh and entertaining themes such as inspiration, love, heroes, and more. Meet at Information Desk. 

Saturday, July 23, 11am.

Art as Experience

UMMA's award-winning docents will guide visitors to experience art through active looking at selected highlights of the collections. Expect a lively and engaging conversation on a different theme each week.   

Sunday, June 24, 11am.